Videos
Manual
Scenarios
Downloads
Home
Email
Version 5.2 29/11/2023
'The Wycombe Railway and Joint Line Plus 5.2' has scenarios for Digital Traction's GWR Railcars Pks 1 and 2.,
some revised scenery along the Thame Branch and various other fixes.
Many SPADS will be encountered. These are caused by hidden signals used to initiate the next visible signal.
Some graphically demanding Quick Drive consists may cause an Out of Memory error in which case try ticking the 'Player Train Only' option.


The route features GWR and BR era Quick Drives and some basic Standard and Free Roam scenarios.
Scenario requirements with links are in the on line manual.

Also included are GWR and BR wagon and coach packs with custom Quick Drive consists.
These use a prefix to denote era and train type. The starting locations use the same prefix system.

Interactive Quick Drive instructions can be viewed on line via a second screen or mobile phone.
In game scenario instructions are also on line.


Requirements:
The base game from Steam: Dovetail Train Simulator Classic
Plus 5 Dovetail routes from Steam:
Riviera 50's
Falmouth
Isle of Wight
Woodhead Route
West Somerset
Some Scenarios require additional DLC


Installing:
After downloading use 7-Zip to extract the package. Free download here: 7-Zip for 64-bit Windows x64
Then use Steam\SteamApps\common\RailWorks\Utilities.exe, 'Package Manager' page, to install the .RWP file.

When running the game use Railworks 64bit with Settings>Graphics>Advanced>Scenery Density slider set all the way to the right (otherwise some important scenery items will not be displayed).



Scenario Descriptions and Requirements can be found here


Contact - Please use this link to report problems or for support.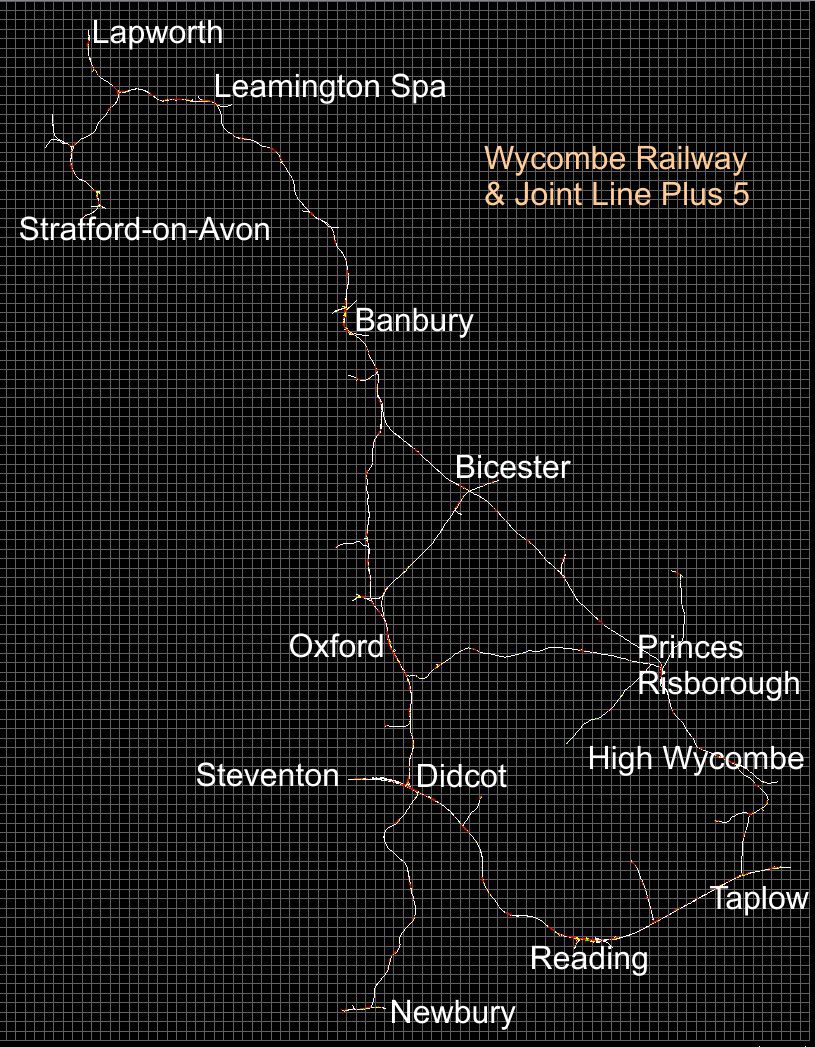 Maps created with RWInfo
In more detail:
The Route
The track has been extended south of Oxford to join the Western Main Line at Didcot.
West of Didcot along the Main Line passing the large Ordnance Depot at Milton to the next station at Steventon at the end of the 4 track section.
South from Didcot over the Berkshire Downs to Newbury along the northern part of the 'Didcot Newbury and Southampton' line and continuing beyond
the station to Enborne Junction at the start of the southern section of the DNS.

East from Didcot along the 4 track Western Main Line including the Wallingford Branch with buildings kindly supplied by Paul Holmes.
Along the Thames Valley, through Reading and including the Henley Branch to bring the route back to Maidenhead, from where HertsBob's 'Wycombe Branch'
started many years ago. It ends at the next station, Taplow.

Some milages
High Wycombe - Bicester - Lapworth 71 miles
Taplow - Didcot - Lapworth 92 miles
Enborne Jct, Newbury - Lapworth 83.75 miles


Included Rolling Stock etc
The trackwork includes the North-South wartime expansion built to support the preparations for D-Day so much of it doesn't represent the classic GWR period.
However Quick Drives, Free Roam and Standard Scenarios for both GWR and BR eras.
Slightly extended versions of the Karma99 GWR wagon pack and Brian Yeomans reskins as well as GordonMack clerestory coaches which were originally packaged with
'Riviera Line - GWR Era' with are included. Thanks to the above for making the GWR era scenarios possible.
The 'WRJL Wagon Pack' will use the recomended SSS Steam Era Wagons Sound Pack if it has been purchased.

Also included are R.Scott's Horseboxes and Malkymackay's CGO 20t grain carrier which add detail to the route. Thank you.
Thanks to DT for allowing the straight ended, Carmine and Maroon versions (with and without passengers) from their original 'GWR B Set' to be repackaged and included here.
Thanks also the John Yelland for the use of his signals, Matt at Steam Sounds Supreme for adding the sounds and hosting the route and to those who helped during development.


Quick Drive Scenarios
Dual Era Quick Drives: Great Western Railway, and, post 1947, British Railways.
In the QD Drive Menu there are 2 dedicated categories of drivable trains for the route: 'WRJL GWR Consists' and 'WRJL BR(W) Consists'.
These use a prefix to indicate consist type:
BR Gds0 - Goods Loco Only.
BR Gds1 - Longish goods train
BR Gds2 - Shorter goods train
BR Gds3 - Short goods for a branch line
BR Pas0 - Passenger Loco Only
BR Pas1 - Express train
BR Pas2 - Stopping train
BR Pas3 - Branch passenger 1 or 2 autocoach/coach

GW -ditto-

The only GWR locos included with the required routes are the Halls. However many third party products are supported.

The same prefix system is used for the QD Start locations as an indication of what type of train might be appropriate.
Pas0 loco only will usually start at a shed and drive towards coaches at a platform or in carriage sidings.
Pas1 trains will usually use the Centre lines at smaller 4 track stations and the Main Line on 4 track sections.
Pas2 trains will use the Platform lines at smaller 4 track stations and the Relief Line on 4 track sections.
Pas3 will be a Branch line expecting a short train.
Gds0 will expect to be driven towards a Yard with probably a choice of wagons.

Scenario instructions for Interactive Quick Drive (prefixed 'i' and grouped at bottom of list), some Standard and Free Roam could be viewed on a second monitor or mobile phone.
Scenario instructions

Standard Scenarios
These are fairly lack lustre which may sometimes grant a green tick on completion.
They are described here with requirement links.


'Visual Shunting' Scenarios This is not intended to be shunting at Olympic level, more like Sunday afternoon shunting.
Wagons are selected by type, colour and loaded state according to the in game instructions.
The scenarios are mostly of the pick-up goods type: Visit small country stations and reverse the entire train
into the yard where 2 or more sidings with manual points allow wagons to be extracted and dropped off.

Free Roam Scenarios
There are a number of Free Roams for GW and BR with pre-populated yards at the main locations.
The crude wagon assets used to fill out yards without the overhead of using actual stock are now added at the Scenario level.
If you want to get rid of them then open the scenario's folder and delete the 'Scenery' sub-folder.
Should you want to add them to an otherwise empty scenario then you could open one of the long distance QD scenarios and Copy the 'Scenery' folder into yours.

There are no new place names in the Route Markers list as I use the map to move around and Scenario Markers to create new scenarios:
*
Edit any existing scenario for the route.
Press 9 for the map.
Scroll, drag and zoom in to where you want your scenario to start and Ctrl-left click.
In the top small 'compass' panel drop down, click the > 'Go' button.
Right-click the map to return to the editor.

You should now be in your location
Click the orange 'Scenario Tools' icon in the left centre panel and select your new scenario type.
Place it in the game and click away
'Save changes to the current scenario?' - No (this means the scenario you chose to edit)
It will then open in your new scenario for which you need to supply a name before it will allow you to save it.
*
There are several Free Roam Tasks with in-game instructions.

Contact - Please use this link to report problems or for support.

Scenarios and their Requirements
They are described here with requirements
Links for additional DLC supported by Quick Drives and used in some Scenarios
You dont need to buy these. The QD's will make use of what you have.

From Steam Sounds Supreme
SSS Pannier Sound+Expansion packs. You need both.
Sound Pack
Expansion Pack

SSS Steam Era Wagons Sound Pack

WD 2-8-0

SSS GWR 2800

Also the later 2884 version

J15 (briefly used on Watlington Branch)
+ free 'Unbranded' patch from Wayside Works

SSS GWR Collett 0-6-0 '2251'

9F Expansion Pack
This requires 9F Pack from Steam

Bulleid Light Pacific

SSS Severn Valley includes a useful Wagon Pack

SSS WSR Wagon Pack

SSS Wycombe GWR wagon pack


From Caledonia Works
Caledonia Works Grouping Van Pack
Caledonia Works GWR Locos (inc Aberdare and 47xx)
Also SR 'U Class', GCR 8K (ROD 04/GWR 30xx), GCR 9N (LNER A5) and other wagon packs


From Digital Traction
Digital Traction Dean Goods
Also 43xx, Dukedog, 33xx, SR VanSet, Milk Wagons and more


From Steam

Victory Works Large Prairie packs
VW Large Prairie Liveries packs

VW 14xx

VW Q1

VW Pannier

VW County

VW Saint

VW 72xx

VW Railmotor

Maitrix Toplight pack 1
Maitrix Toplight pack 2
Plus many more here

Skyhook SHG StarPack01

Bossman BMG S15

UK Mineral Wagon Pack MichaelWhiteley
UK Van Pack MichaelWhiteley
UK Coal Wagon Pack MichaelWhiteley

BDO 60T Unfitted Bogie Bolster Wagon Pack (includes CAO Brake Van) FastlineSimulation

Videos Manual Scenarios Downloads Home Email